If you're motivated by career growth... you're at the right place.
At MPI we are on a mission to build an environment that gets people excited to go to work. We're also committed to keep our employees motivated, providing resources to develop skills and a clear path for growth. We believe in a healthy mix of working hard, having fun and giving back to our community. Does this sound interesting to you?
Take advantage of the Sales Academy
MPI is a leader in appointment setting and integrated lead generation services. Core to our business success and the quality of the results we deliver for our clients is our unique concept of the MPI Sales Academy. The MPI Sales Academy was created to attract cream of the crop talent and provide a structured program to develop the most important sales skills and provide a clear path for career advancement. It is a winning formula for MPI as we develop a distinguishing asset of highly proficient resources to work on the behalf of our clients.
What you'll get out of the Sales Academy

Work with other driven individuals and become a part of a team of skilled, motivated team of professionals
See a clear career path for advancement and know exactly what it takes to increase your compensation

Have access to continuous training of effective sales skills and disciplines

Gain access to future sales career opportunities with our loyal clients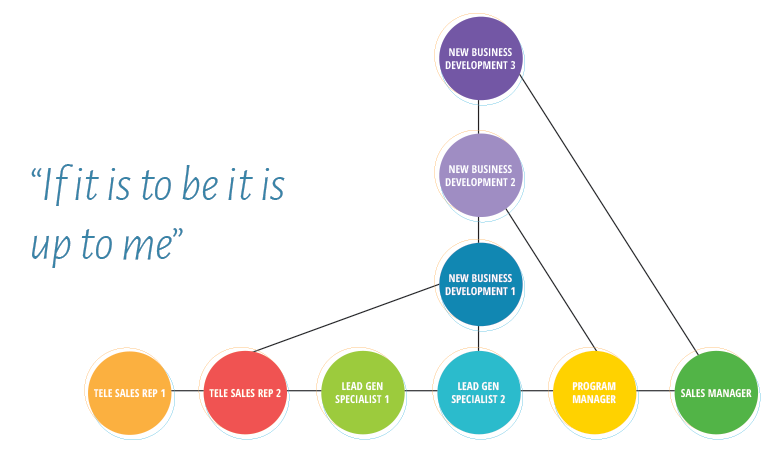 Building the Foundation for Opportunity: Entering into the MPI Sales Academy, you'll experience an extensive 18-month training and development program that will set you up for success. You'll become proficient in the lost art of "cold calling" and the phone tactics and strategies to engage in conversations with decision makers. These skills will serve our Sales Academy alumni throughout their entire careers.
A Clear Path for Advancement: Another attractive component of the Sales Academy is that our employees have complete transparency to their career path at MPI and what it takes to advance to the next level. This approach has proven to be highly motivational and keeps our team focused on results that will payoff for our clients, employees and our business.
TELESALES REPRESENTATIVE
Being part of the MPI team means you are an outbound caller who is responsible for generating qualified leads for our clients. MPI team members work as an extension of our clients' sales teams. As a member of the team, you are responsible for making a specified number of outbound dials by using scripts, lists and other tools provided to you. Introducing the client, their products and/or services they offer prospects is just scratching the surface of what you do. Clients aren't just paying us to generate leads, they are also paying us to gather information. Some examples would be updating the clients' pipelines, clarifying and correcting contact information, or confirming the decision makers. There are many responsibilities that come with this position, but despite the sense of pressure you might feel here and there, it is important to us at MPI that you have fun. The more you enjoy what you do, the more successful you will be; And we want nothing but success for all our employees!
Required Skills Good organizational skills and accurate documentation/reporting Ability to use web-based systems and CRMs Must be able to conduct oneself in a professional manner Ability to effectively communicate with clients/prospects and sales staff Punctual and Dependable Job Type: Full-time
APPLY NOW